Membership is open to everyone with an interest in health history and heritage especially those currently working or previously working in the health professions (e.g. medical, nursing, dental, allied health); students of medicine and history, researchers of medical and social history.
At present the Society has a membership of more than 120 with a regular attendance of between 70-100. Current* membership fees are $50 individual, $80 for a couple and students are FREE. (*Oct 2020, subject to change)
Becoming a member enables you to enjoy the collegiality and networking opportunity of our meetings.
Members may also borrow books of medical history interest from the EMDL library collection (excluding books marked as "Reference only" or those published before 1910). Become a member and contact curator Juliet Hawkins for more information. The Royal Australasian College of Physicians' collection of historical books make up approximately 1/3rd of the nearly 5,000 books catalogued and shelved in the Library. There is also a separate display of books written by or concerning Auckland Health Professionals.
This year we are working on developing an online Document Library available to a Member's Only section of the website. This will include access archival documents, photographs, recorded interviews and videos collected by AMHS.
We invite you to support AMHS by becoming a member and we look forward to seeing you at our programme of events.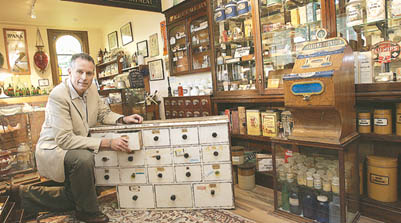 Terry Sutcliffe is recording Onehunga's pharmaceutical history
(Photo from Central Leader 31 January 2009)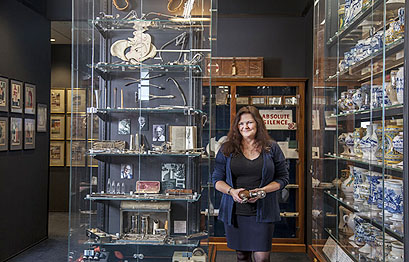 EMDL Curator Juliet Hawkins stands beside the display of obstetrics and gynaecological instruments.
(Photo from North & South magazine September 2018)